All About the Dogs
We live and breath everything dog. With that in mind, fair warning, if you need to call us, we can talk all day about dogs.
Taylor Made
Do you have issues finding products that actually fit your furbaby correctly? Many of our products can be customized to your dogs specific measurements ensuring a perfect comfortable fit.
Proudly in the USA
We take great pride in manufacturing all our products right here in the USA.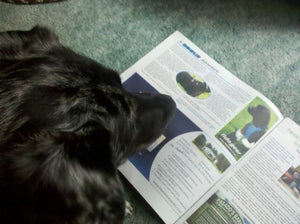 IN THE NEWS
Sadie our Mascot girl hard at work reviewing an article we wrote in a local publication Pet Connection Magazine.
Subscribe to our newsletter
Promotions, new products and sales. Directly to your inbox.
Fidogear Fan Club
HI Tara, ...I am always happy to pass on the best word for Fidogear , especially those bitch panties.. I have never... and I am not blowing any smoke.. but NEVER found any panties that compare to those of yours.. I own 6 bernese and three of them are seasoning females and they wear nothing but Fidogear.. they stay put on them.. never need to worry about the velcro snapping off or the panties not being secure.. so i am always happy to rave about the product.. it is a wonderful one.

Colleen, Snowy Pines
Hello. Thought you'd like to see Jengo in the new jacket we ordered from you. My other dog has had a FidoGear jacket for years and years, so we thought we'd get our new puppy one. We're very happy with it. Thank you.

Debra
Oscar's collars fit perfecly. I was surprised by how quickly they arrived. Thank you very much.

Stacey
Hi Tara.............received the "Beautiful Brown and Gold" collar. Fit perfectly! Of course "Blaze" looks wonderfully wearing it and I have receive several comments on just how gorgeous it looks on him! Thanks for all your extra time you spent in making sure this was the right color and size for my new Vizsla dog "Blaze!" Will be contacting you shortly for a back seat cover for my Subraru Outback. Thanks again...and loads of success in your future.......

Jean - Perfect Tail Wag'n Express of Gig Harbor.
Hello, First I wanted to let you know how much I adore Apollo's jacket. It was perfect for the snow days, Apollo loved playing in the snow (his first snow!) and his coat kept him nice and warm. I included a few pictures, the first one is Apollo and I going in search for a Christmas tree and then just some of him goofing off in the backyard. Thank you again,

Kat and Apollo